Wow. Here's the 1,000th quote added to my collection:
The world is like a ride at an amusement park. And when you choose to go on it, you think that it's real because that's how powerful our minds are. And the ride goes up and down and round and round. It has thrills and chills, and it's very brightly coloured, and it's very loud and it's fun, for a while. Some people have been on the ride for a long time, and they begin to question – is this real, or is this just a ride? And other people have remembered, and they come back to us. They say 'Hey! Don't worry, don't be afraid, ever, because, this is just a ride.' And we… kill those people.

~ Bill Hicks
I don't "use" the numbers in simple 1, 2, 3, … order. Often I find several quotes from one person at the same time. I don't want 20 quotes in a row from Leo Tolstoy in the daily quotes podcast. I space them out and end up with a smattering of numbers used out of order. So I keep a little list: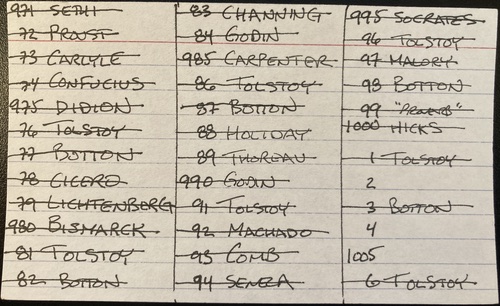 Each time I find a quote, I look to find the next number. When I used 999 for a proverb I thought, "I wonder what quote will be next?" And promptly forgot all about the milestone.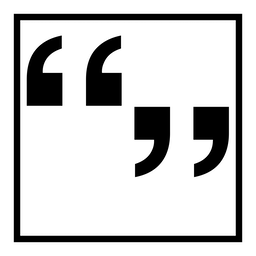 Today I bounced on my take-me-to-a-random-post link (see About this site) and landed on a very old post from 2013. It was a very large block of text, much longer than what I usually quote. I trimmed it down to what's show above and copied it into my collection. I looked up the number and …surprise! 1,000.
In case you've not noticed the new bit of copy in the footer: You can get a daily quote by email from my Little Box of Quotes.
ɕ