(Part 10 of 13 in series, Scaf 101)
By now, you should be pretty comfortable with these builds. So for this one, I'm going to start off by making a poor decision, so you can see how it doesn't work out at the end. Then I'll make a change and show it rebuilt.
Here's a layout shot for one A-frame end of a "swing set". If you look at the apex closely, you'll see I was considering using a side outlet elbow. (Two 7-foot legs, and a 3-foot cross pipe.)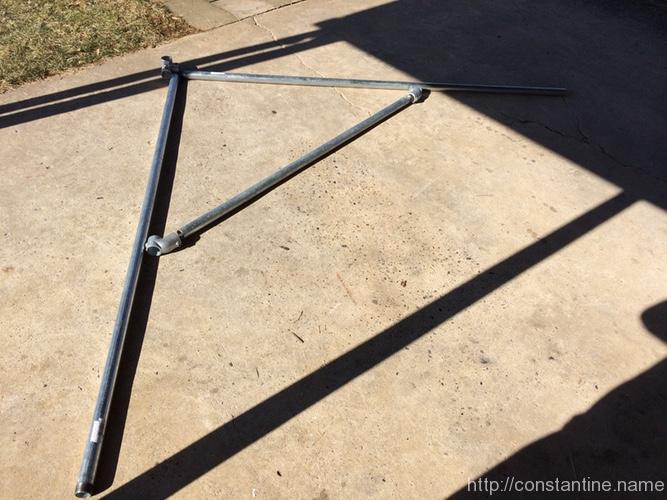 At which point I thought this might be an interesting teachable moment. So I swapped in the 90° two outlet tee. This seems like a good idea right? We're going to use a 5-foot pipe across the top, one end of it has threads, I can slide this clamp further in from the end and it'll get a much stiffer top corner.
Advanced: If you have the extra 45° single outlet tees you could add awesome little 1-foot braces on two of the corners at the top too. But DON'T – spoiler – we'll use the 1-foot pieces for something else at the end.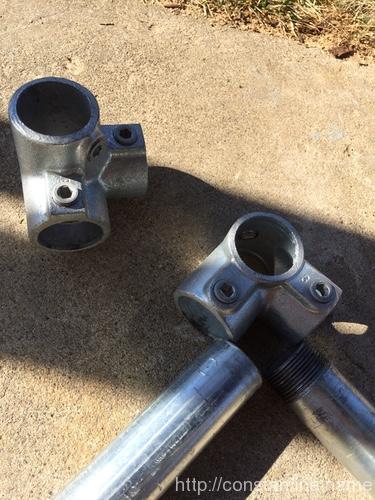 So I assembled one A-frame side and put in the 5-foot top pipe. You can see the other A-frame side is also assembled on the ground. The 7-foot pipes in this set all have threaded ends, and I've left them all facing down so the A-frame top clamps are more stable.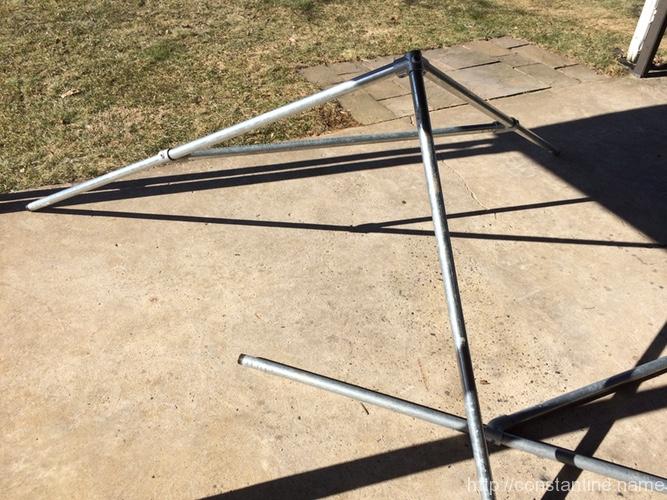 And here's the assembled A-frame swing set. It's about 5 feet high and is surprising stable because of the very wide 90° angle at the top.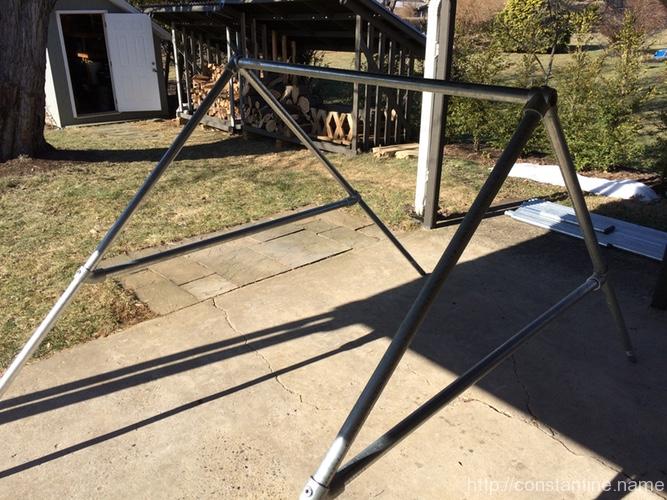 So can we make this more interesting or more stable? Let's put a 5-foot base across the bottom of one side, just to stiffen it up. (But it can also be a laché precision target too.) Two elbows, a 5-foot pipe, and you'll see the 5-foot seems long, so bury as much of the pipe's ends in the clamps as you can. You get this: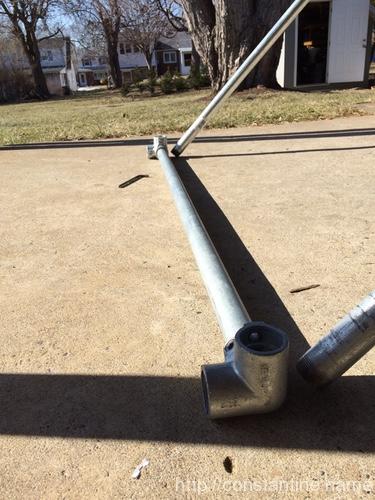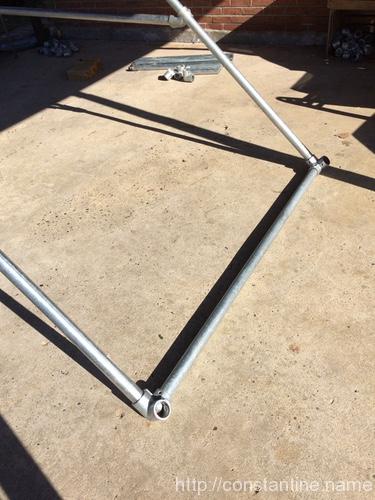 We still have two elbows left, so we could do this on the other side and call it a day. But we also have two more 90° two outlet tees, so maybe we could put a bar, across the other legs, but up higher; just to make it interesting? Here you realize that using the two 90° two outlet tees on the top of the A-frame means the entire thing is too narrow to pull this off. In the photo, I have the far side clamped, and the near side just snugged and resting so I could take the photo; it's clearly too long. If you slid this down low, you could just stretch/spread the legs, but up at this height, it's a no-go.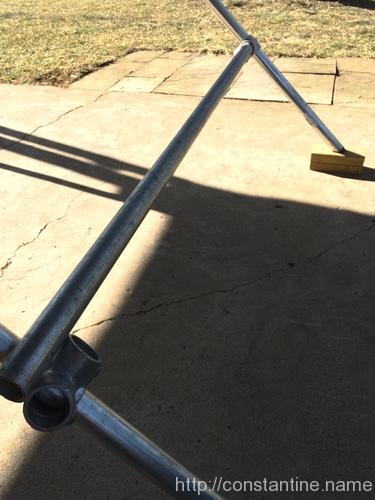 At this point (if not sooner) you'd realize that you cannot get those top clamps out and swap them. You have to tear the entire thing down; thus my thought that this would be good to show, so you never have to do it. :)
Here's a do-over layout shot for the clamp change, and the finished do-over (with that low base with elbows installed).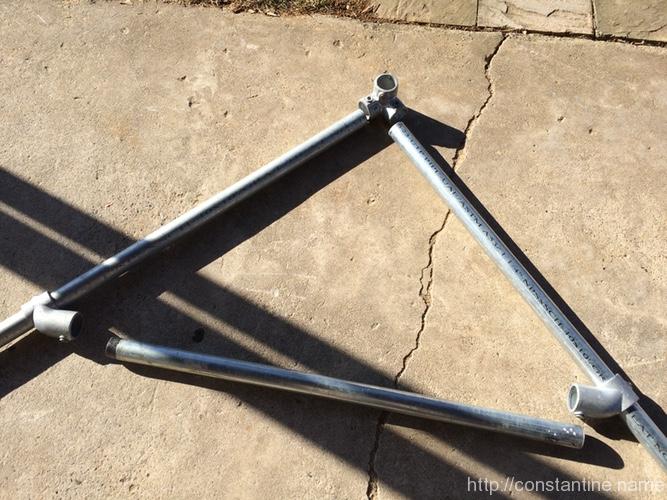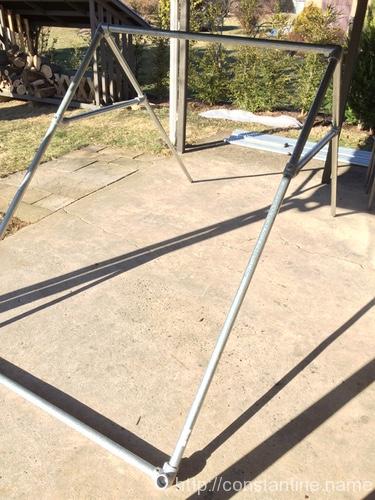 Now we can add some fun stuff. You can use the two outlet tees (you have four left) to put a base on the other side (note the clamp orientation).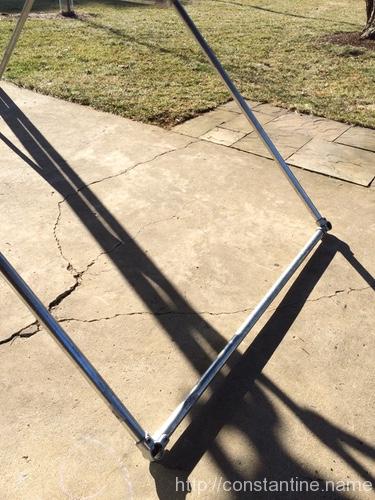 But we have that on the other side already, so you can flip those clamps and position this 5-foot pipe anywhere. You have a "window" on one side too!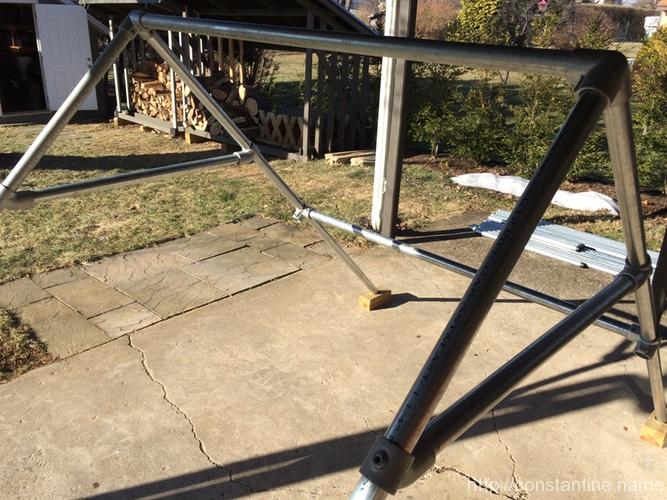 We really should flip the elbows on the other side, so they "sit" into the feet better. Now we also have a "ground rail" on one side. Perfect to start from before jumping/reaching to swing on the bar, or as a laché landing target: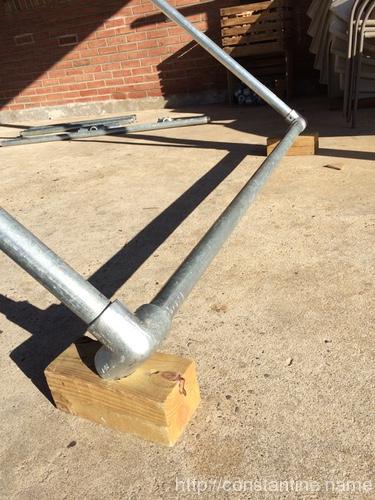 Done? …not hardly! We have clamps left over. Grab that last 5-foot pipe and your four 1-foot pieces, two 90° two outlet tees, and you can make a bomber ground rail (because you made all 8 wooden feet way back when).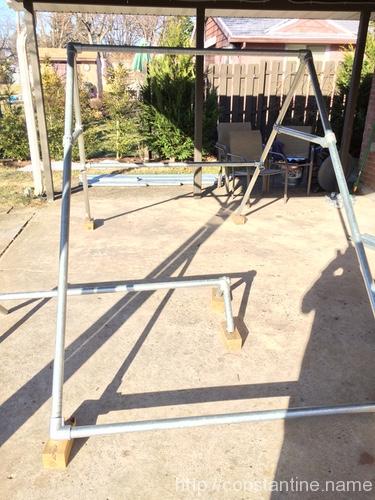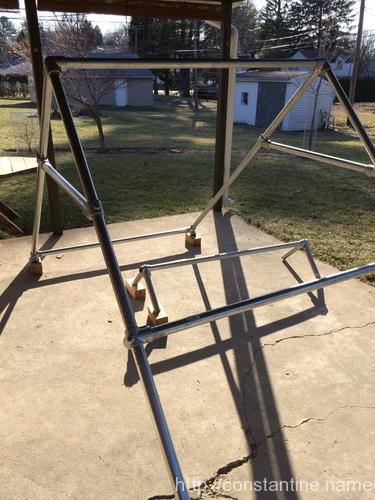 Finally, you still have two 3-foot pipes left. If you have the extra four 45° single outlet tees, you could add those pipes in somewhere. As diagonals to the base, or in the window, or something crazy like connecting the free ground rail to the A-frame somehow.
So this build ends up being full of options. Climbing/gap challenges around the side braces; balance/cat-on-a-rail challenges; precisions; swinging. This is one of my favorites that you can build with this set.
ɕ