(Part 28 of 36 in series, 10,000 Reps Project)
5,000. five thousand. FIVE. THOUSAND!!!
So excited to be half way through the numbers of my year-long project. I have about 110 days remaining to do the second 5,000 reps of all the activities. But at this point, it is now possible to do 120 reps (pull-ups being the limiting activity) in a single workout. Granted, that workout takes about two hours but it means it is finally possible to warm up, get started, and get it done.
Last week was a lot of random-seeming numbers of pull-ups just shoved into every day. That took a real toll on my arms. So I was particularly careful about getting back on the pull-up bar.
But first…
5,000 bar precisions…
This seems inconceivable to me. I remember starting all of this…. and now? Well, here's the worksheet from the last workout on bar precisions:


I did 260 bar precisions (I still have the bars set at 64″ like in the video I recently posted). This seems like an insane number when you step up on the bar. But I start counting to 26, then make a mark in my little book… and then do that 9 more times. It is VERY difficult to stay focused for the entire time. I mean, REALLY REALLY difficult. I don't see how I can fully convey the experience here (in a quick update), so I'll leave it at that. I'd love to talk about it some time… so chat me up. :)
Meanwhile, I had planned to do the magical 5,000 milepost workout of the other activities on the following day (Thursday, in the screen grab above.) I headed to the bar, did a bunch of range-of-motion movements, some joint rotations, etc. Then tried a pull-up and OW! …not happening. Normally, the FIRST pull-up always sucks, but on Thursday I felt discretion was warranted. I mustered a LOT of courage and pushed the workout back until my arms felt better. (ie, so it didn't feel as if they were going to be ripped off my torso at the same time my forearms exploded.)
5,000 pullups!
…also, 5,000 pushups! 5,000 seconds in handstand! 5,000 body-weight squats!
Saturday morning, it was conveniently raining (delaying our plans to tackle yard-work) and I decided to get at it. I warmed up and spent just over 2 hours trying to stick to a ten-minute circuit combining pull-ups, squats, handstand, sitting in a resting squat position (another of my projects is to get a full resting squat). Note the screwball "42" pushups in this workout; That's just a result of a recent push-up challenge I was doing with some friends where I banked a pile of pushups, so in this workout I can just coast to 5,000.


There it is. April 2nd… 5,000 across the board.
Next week…
I'm going to tweak the circuit just a bit so I can get 125 reps into a workout. At that rate, I have this miraculous spreadsheet projection, where one thousand reps happens in just 8 workouts. boo-YEAH!
…assuming of course I can manage to follow through on this ambitious pace: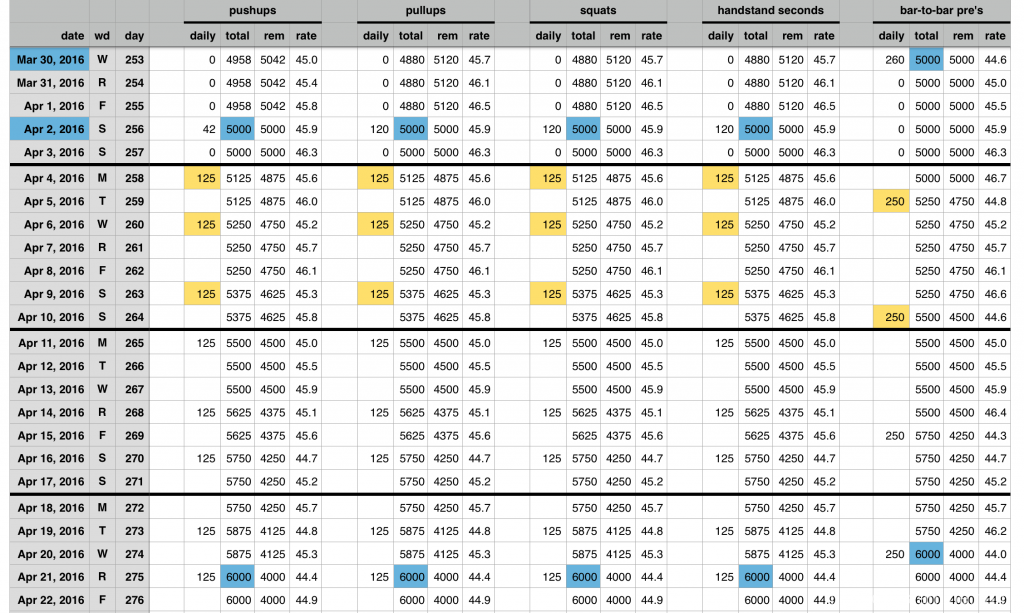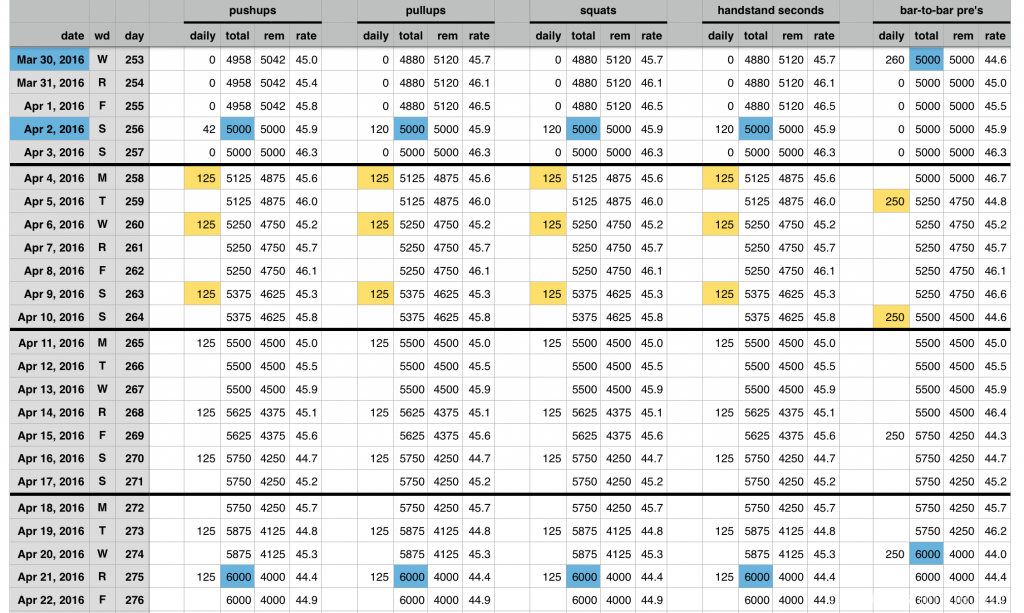 ɕ