(Part 27 of 36 in series, 10,000 Reps Project)
The more I work on this stuff, the more I'm certain I'll never be done; I'll finish this challenge, but, "move, exercise" is just an infinitely deep rabbit hole.
The past two weeks, I've been working on trying to increase daily numbers. Pull-ups remain the limiting exercise, so it's a game of how many pull-ups can I do in a day. Last week, every day, I did anywhere from 1 to 4 separate workouts. I did circuits with small pull-up sets to a total of 24 or 25 pull-ups in each workout. (Circuits of pushups, squats, handstands and seated/resting squatted. But that's all easy stuff.) So the number of pull-ups on each day last week ranges oddly from 24 to 96.
My forearm continues to feel better. It's now a sort of "remember to be careful about that", rather than a feeling of impending doom if I do one pull-up incorrectly. I'm continuing to generally push hard with training, but I've no qualms about pulling up short if the arm bothers me at all.
I'll pass 5,000 reps of everything this week!
I'm planning only 2 workouts this week. They will both be the largest number of pull-ups I've every attempted in a day. I'm aiming for 120 reps spread into four workouts. This week would still be a slightly "light" week since it's only 2 out of seven days with workouts. The following week, I'm tentatively thinking of trying two days with 125 pull-ups in each day. I've never managed more than about 70 pull-ups in a single workout, so I'm tempted to try to do one big workout to see if I can do 120 pull-ups in something silly like 40 sets of 3.
If I can do 120 reps on workout days, I can still finish this whole challenge in time (but with literally just a few days to spare.) That seems too finely-planned, so I'm hoping to get up to 125 reps on the work days. This is definitely going to be physically challenging to make it by the end of 365 days.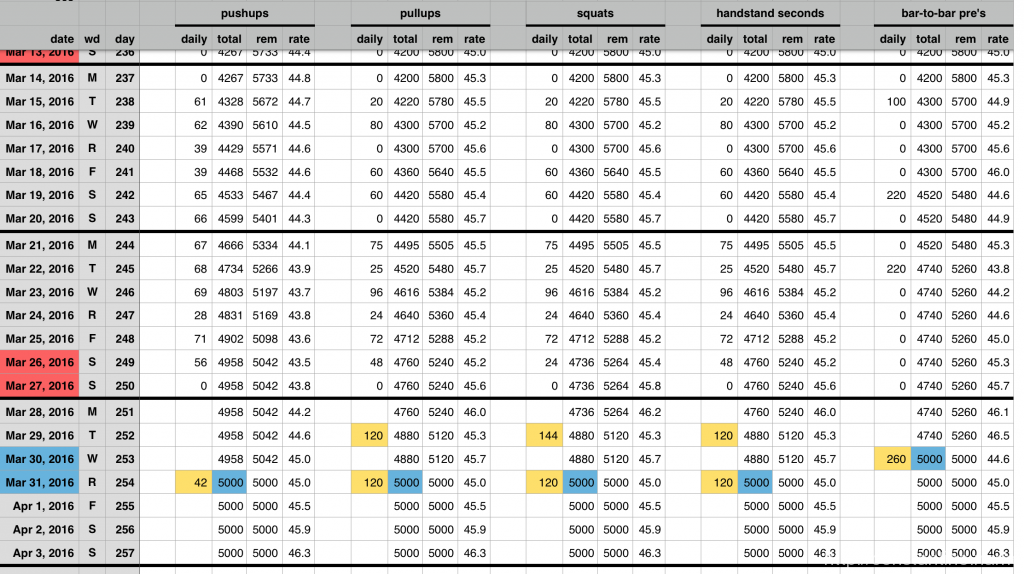 ɕ