Today, two thoughts popped into my head in rapid suggestion: "Self-esteem box," and "I've never pull-quoted Movers Mindset."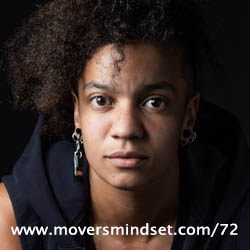 Craig: So for me it's I know if I go for a walk that's almost, not always, almost always enough to make it so I can go back into the cave of ugliness and get back to work kind of thing. So what are some things that will help you turn that corner, brighten you up or energize you?

Brandee: Yeah, that's a great question, because I do get very dark moods pretty often actually, because with compassion comes the pain of caring so much about all these people and all this situation, it feels very futile a lot of times, like what can I do to change this. Yeah, I get there and I have a few tactics, I basically build protocols for myself for when I get in those moods. So one of the first things I go to is my self-esteem box.

Craig: This sounds like a good idea.

Brandee: And my self-esteem box is digital, it's a digital self-esteem box and what I have done, is I have taken screenshots and copy/pasted and just dumped in all kinds of nice things that people have said, either to me or about me over the years.

So I have this file that is just full of gratitude and compliments and just stuff that I have had to read over and over and over in order to actually believe it. So that's actually more like last resort is the self-esteem box. If nothing else works, open the self-esteem box, look through here.

Craig: In case of emergency, break glass, right?

Brandee: Totally. Totally. So that's something I think everyone could and should do that. I guess I've never really told anyone about that. But it's a nice thing.

Craig: I think that's a really good tactic. People talk about doing gratitude journaling, but the gratitude journaling. I mean, I know that you know what it is, but gratitude journaling is a process which you have to execute on the spot when you feel like you're having a bad mood. But the idea of having a self-esteem box is a clever one.

Brandee: Why, thank you.

~ Brandee Laird from 46'30", https://moversmindset.com/72
I think these two thoughts popped into my head as the photo-frame on my wall changed. One of the smartest things I've ever done is set up a digital photo-frame. I email it photos of things—you know, all those digital photos you never do anything with. :)
Anyway. I love love LOVE my photo-frame. It's chock full of hundreds of great photos. It's not quite a self-esteem box. But it generally has the same effect. Every single time I glance at it it makes me smile.
Meanwhile, ever since I had that conversation with Brandee, (in September 2019,) I've been toying with the idea of creating a self-esteem box. I'm not quite sure where to put it [digitally] though; Also, I really do not need to make up yet another system for myself for organizing and storing things.
But the idea keeps calling to me.
ɕ