(Part 12 of 36 in series, 10,000 Reps Project)
This past week is filled in. Everything went as planned. Today was an exact copy of Friday.
Oof! My forearms are starting to get sore… the part where the grip tendon(s) attach at the elbow. I must make sure that doesn't develop into tendonitis. I'm HEAVY from holiday eating, tired from messed-up sleep, etc. so this week's workouts were tough. BUT, this was all expected and planned for, so I'm treating it like an expected plateau, smiling proudly and moving onward.
This coming week has several big changes…
I'm switching to a "workout, rest day, workout, rest, rest" pattern to give me a two-days-in-a-row recurring break. All the way into MARCH I'm going to have to be ramping up all the excercises so I'm going to need that double-day recovery break in the pattern. This week, Monday/Tuesday are MUCH-needed rests, and that makes Saturday/Sunday rest days too — so this week is going to be an easy week.
The following week I have January 5 thru 9 marked red because I'll be in Boston. After a bit of juggling, I've arranged for the Tuesday/Sunday travelling days to NOT be workout days to avoid having to do 80 pullups in a train. I've two workouts planned while in Boston. I'm not 100% sure I can find a suitable bar-precision I want. So, to be 100% sure I can get the reps in, I'm going to take the 110 bar-pre's that would be in those two workouts, and bank in the next three workouts. Thus the inflated 85,85,85 count on the bar-pre's coming up. They're not physically hard any more (just technically challenging) so there's no probably cranking out those reps to ensure I don't fall behind in the Jan 5-9 week.
Finally, if I stick to the plan, on day 184 — just a smidge after the mid-way point of the challenge — I hit 3,000 on the final rep in the workouts, AND sync-up all the activities. That will be a red-letter-day :D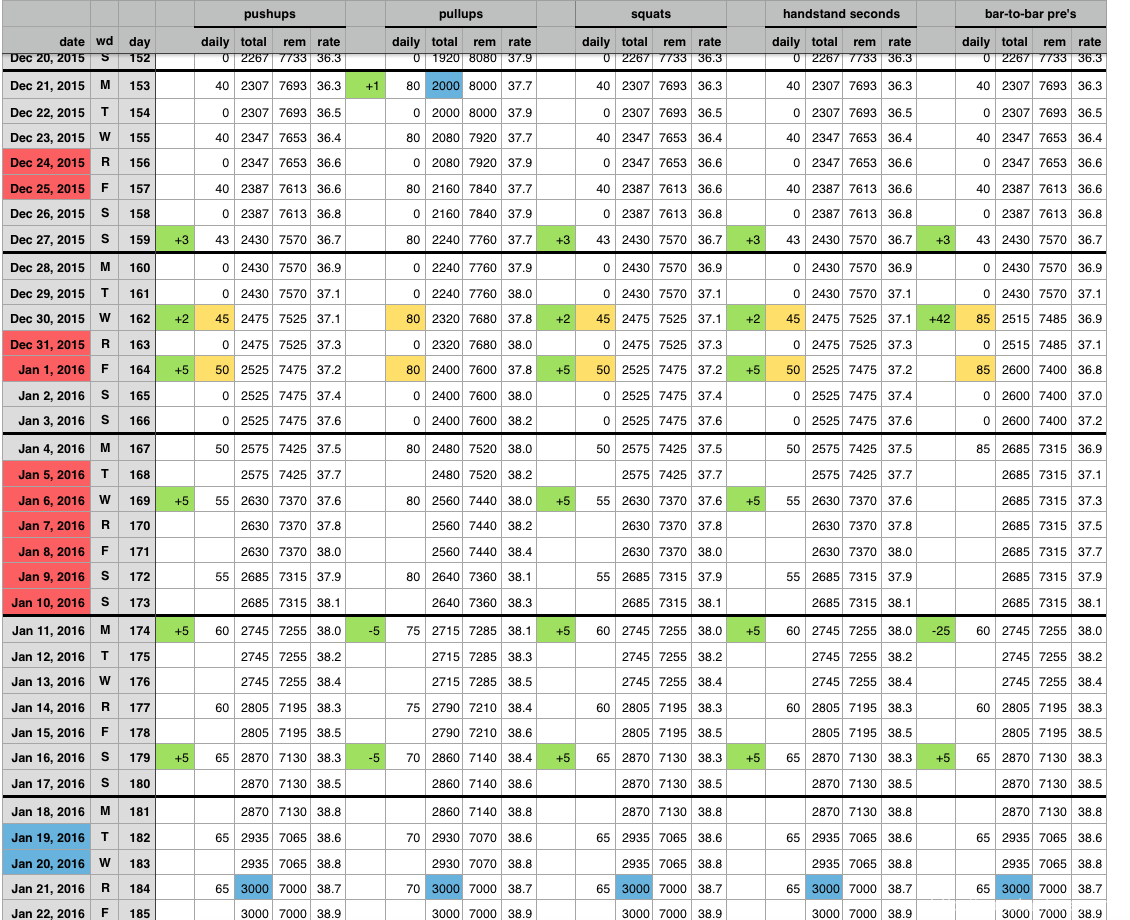 ɕ