…when the goal isn't to end up with a pile of notes?
There are many scenarios where, over time, I do want to end up with a collection of notes. This is straight forward; start taking notes, and keep them somewhere. Bonus points if you review them, or use them as reference, or do anything with them.
But what if I have a scenario where I want to "do a better job" but I don't care at all about the notes themselves. Suppose you have a regularly scheduled recurring meeting, but you don't need a historical collection of notes. In fact, suppose you don't actually need notes, but you think: It would be nice to know what we did last time, so we can follow-up next time.
And so I'm thinking this would be easy. I'll just have a pile of notes (physical, digital, whatever) and I'll go through them and … wait, what, actually? Recopy them? gag, that's tedious. How many do I keep? How long do I keep the old ones? Here's what I came up with…
I'm working in a single digital document. I have a heading, "Ongoing," at the top that has the big things we currently have on our radar. The list has some dates with notes; "Oct 2020 — started that big project" and similar things.
Next I have a heading, "Jan 5, 2022" with the date of our next scheduled meeting. When that meeting arrives, I start by doing something very weird: I add "9876543210" on the line below the heading. Then I take simple bullet-point notes under that heading. "We discussed the foo bazzle widget needs defranishizing," and similar items. Before our meeting ends, I add a heading for the date of the NEXT meeting, ABOVE this meeting's heading. This pushes the heading and notes down the page a bit.
Then I continue reading. The heading just below this meeting's, is the date of our last meeting. Just below the heading is "9876543210", which I put there when we had that meeting. I delete the "9" from the front. I read my notes from the meeting. I may even edit them. Sometimes things that were obvious then, don't seem so obvious a week later.
Then I continue reading. The next heading is the one from two meetings ago. Just below it is "876543210" — think about that, if it's not obvious that last week, I read this part and already removed the "9". So this week, I remove the "8." Read the notes.
I work my way down each of the historical dates. Snipping a lead number, off the front of the line after each heading. 7. 6. 5. etc.
At the very end of the document, I find a heading that is from 11 meetings ago. Below the heading is "0" — because I've looked at these notes 9, 8, 7, 6, etc deleting a digit each time. These notes are now quite old. In fact, they should be irrelevant after 11 meetings. If they are not, I figure out what I have to add to "Ongoing" (the very topmost heading)… or perhaps I put a note under the coming meetings heading (just below "Ongoing".)
It sounds wonky, but it's magic. One digital document, you can skim the entire thing right in any of the meetings. You can search in the document. I can be sure I'm not forgetting things, but I can be sure I'm not making a huge collection of crap I'm never going to look at again.
Care to guess where that delete-a-digit each time comes from? It's an idea from book printing. When they used to set type (physical lead type in trays) they would put "1 2 3 4 5 6 7 8 9 10" (or other orderings of the numbers) in the cover plate. Then print the book. What printing? This one is "1" Next printing? …they'd just chip off the "1" and print "2 3 4 5…" in the book… second printing. They still print those weird sequences of digits in digitally printed books. I believe this one is a second edition, 3rd printing…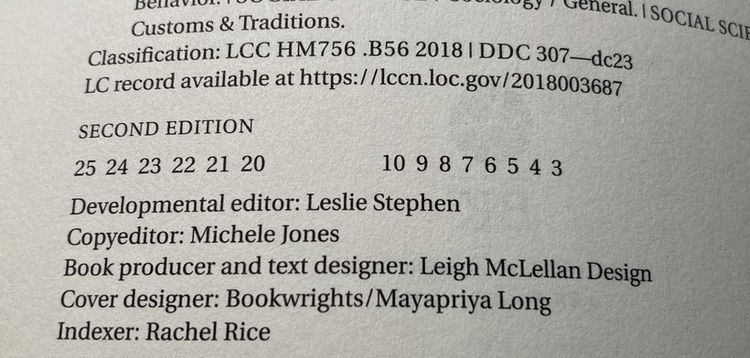 ɕ