Within the team that creates the Movers Mindset podcast, we assign numbers to our projects. We use "R42" for our 42nd recording project, then R43, and so on. This enables us to start naming things from day one, in a way that we don't have to change later. If you're putting your files in a folder, what would you name it, that you could be sure wouldn't change?
We also use our podcast's initials on file names, "MM." When we see files whose name contains, MM-R42… we know what it belongs too. It's part of the Recording-42 project for Movers Mindset.
We also exclusively use people's family names on files. So a raw WAV file from an interview is 20200423-MM-SMITH-TR1.wav … April 23, 2020 recording for Movers Mindset, of someone named "Smith", and this is track one [a recording from one microphone.] 20200423-MM-SMITH-TR2.wav is track two, and so on. No matter where you toss that file, it's going to make sense.
Eventually, a recording project might lead to one (or more!) episodes of our podcast. They get assigned episode numbers, EP56, EP57, etc. Then we have filenames like MM-EP57… and it's always clear what that is.
Sometimes we have a dozen files to keep track of in a podcast episode and we end up with
20200423-MM-SMITH-TR1.wav
20200423-MM-SMITH-TR2.wav
MM-EP56-INTRO.wav (introduction recorded after interview)
MM-EP56-OUTRO.wav (outro recorded in post production)
MM-GCORD.wav (a little music 'button' used when joining bits of interview)
…the final episode is then MM-EP56-SMITH.mp3
Since I've typed this much, here's another thing we do: We use consistently numbered folders to store the files. Every project has a folder, 2020.04.23 Bob Smith R42/EP56 — we create 2020.04.23 Bob Smith R42 in our archives when we do the raw recording, and at the very end we add the /EP56 to make it easier to find things. In side each project we create five folders 1 assets, 2 recording, 3 episode, 4 publication, and 5 social — the leading number ensure they sort in nice order in various displays. 1 contains anything the guest gives us (photos, writing) or any photos we take during recording. 2 is the raw original recordings, 3 is everything to make a podcast episode (intro, outro, whatever we have to assemble, AND the finished MP3), 4 is anything we create as part of publishing the episode (transcript, articles, highlights ) and 5 is anything that's ok for social media and sharing. And then we have a multi-terabyte file server with a "few" files on it: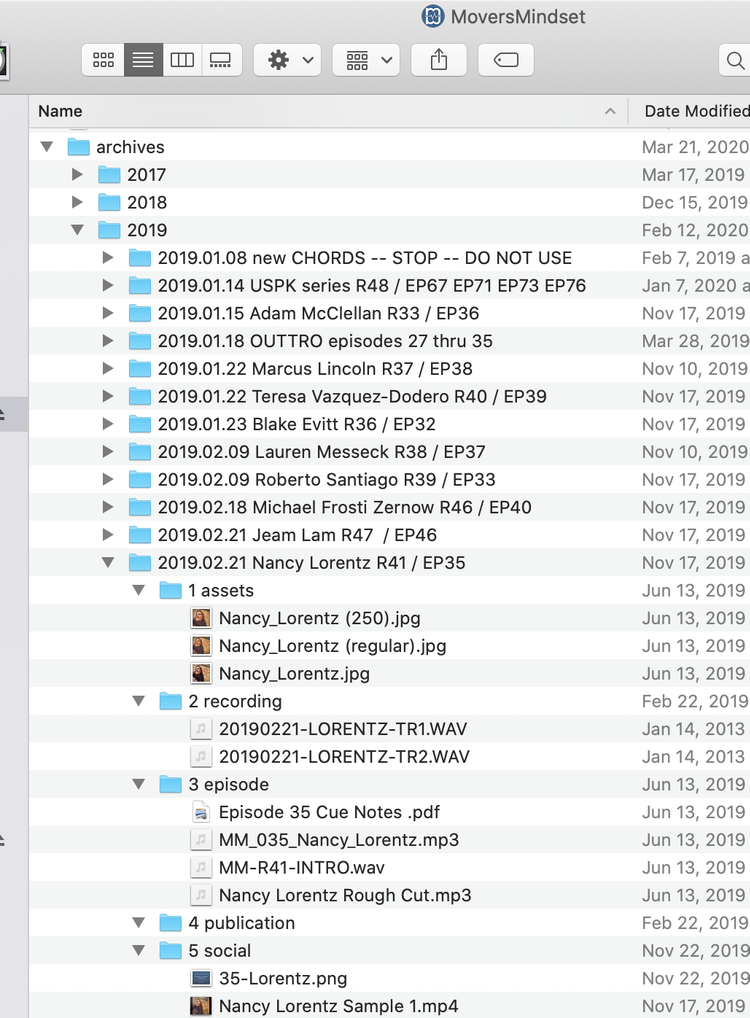 ɕ