(Part 15 of 36 in series, 10,000 Reps Project)
Planning is really paying off…
While I was in Boston, my schedule shifted and I did my planned-for-Saturday workout on Friday. When I got home to my desk and looked over the bigger picture, I realized that shift enables me to pull the "3,000 reps milestone" workout forward so it falls exactly in the middle of the year — on day 183.
Just-completed week is filled in, and next week is laid out. A few really neat things are coming up in the next two weeks:
Monday: I finally get the slightest back-down on pullup counts since I started really working on them over 3 months ago. 80, drops down to 75 :P At the same time, everything else goes up to 60 reps. 60 bar-precisions is going to be so nice after having to crank out 85 for a few days (to bank rep's) before I went to Boston.
Saturday: Another increment of activities, and the final back-down of pullups.
All of which is working toward a very special milestone that's coming up in two weeks. :D For next few months I'll be settling into a regular pattern of 'work, rest, work, rest, rest' with a regular +5-reps across the board as I work to build up the total numbers. All across the board, the "running rate needed" numbers is about 40, or 80 every-other day; So I'm still behind the pace I need to finish on time, but now I'm really getting close. The medium term goal is to do 100 rep's of everything, and run that out to the end of the challenge.
Onward!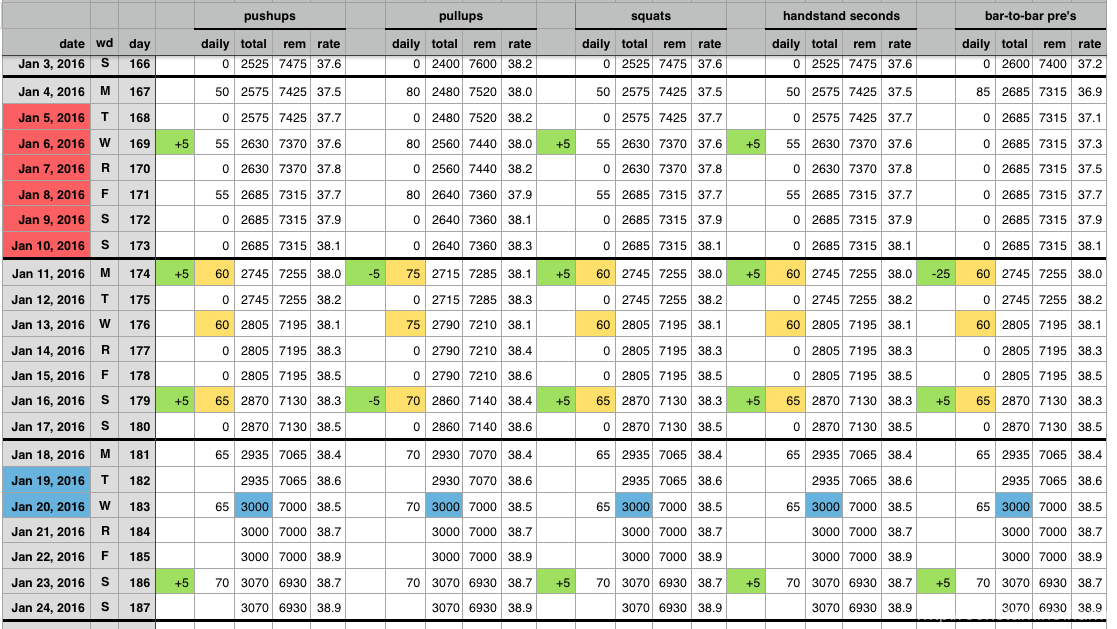 ɕ