Ferriss's Tribe of Mentors was published in 2017, and arrived in my collection as a gift in 2018. It took me three years—until 2021, March of this year in fact—before I was finally ready to read it. I have a couple, (and "couple" always means two,) of things to say about the book.
Excellence is the next five minutes, improvement is the next five minutes, happiness is the next five minutes. This doesn't mean you ingore planning. I encourage you to make ambitious plans. Just rememeber that the big-beyond-belief things are accomplished when you deconstruct them into the smallest possible pieces and focus on each "moment of impact," one step at a time.

~ Tim Ferriss
As I was reading, I marked about 50 quotes. I didn't count the markers I inserted, and some of them are at sections with several quotes. There are quotes from the people in the book, there are quotes that Ferriss included in single-page, "quotes I'm pondering" section breaks, and there are precisely three quotes from Ferriss himself. (All three are here, in this post.)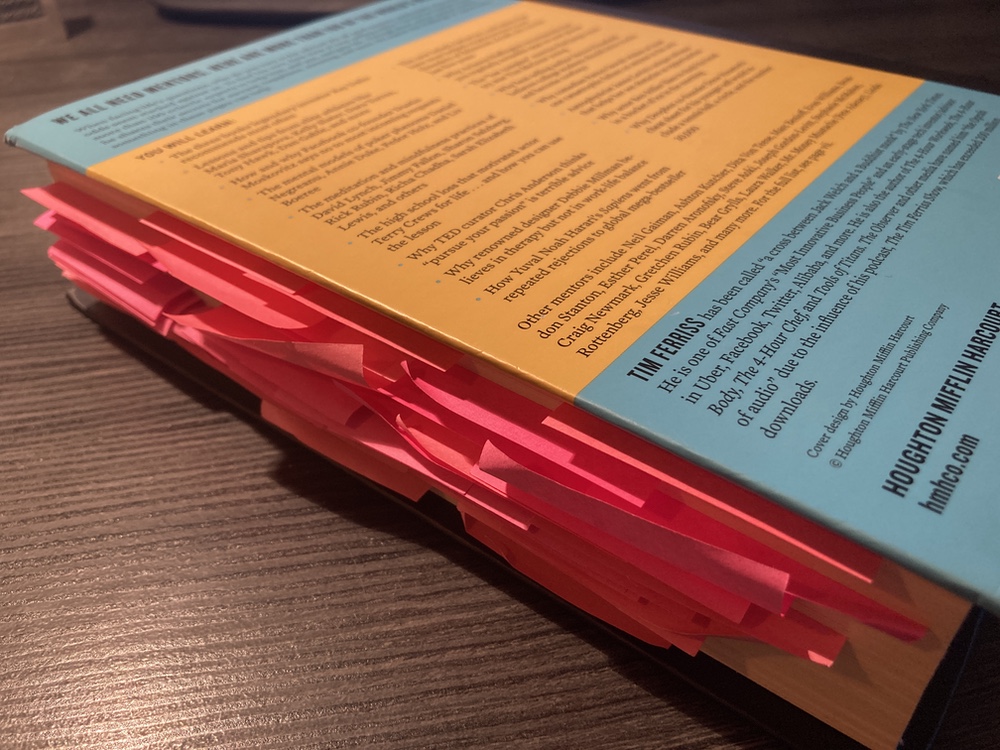 The first thing I want to share about this book is that it's not really Ferriss's book. He didn't write a book. The vast bulk is other people's work and writing. Some of those people impressed me, some were "just" solid humans being their best, and some struck me as self-deluded; which makes it a superlative book. Where—let's be honest—can one get insight on 100 different people and tuck it under your arm? Insight on people you've heard of, people you've not yet heard of, and even some people you'll probably never care to hear of. Furthermore, having myself done a bunch of, "you're just capturing what other people say," work, I'm qualified to say: He did the deceptively difficult work of asking. He asked and followed up and nudged and organized (and indexed and cross-indexed) and cast light on people he thought were worth giving a platform.
To paraphrase Jim [Loehr]: The power broker in your life is the voice that no one ever hears. How well you revisit the tone and content of your private voice is what determines the quality of your life. It is the master storyteller, and the stories we tell ourselves are our reality. For instance, how do you speak to yourself when you make a mistake that upsets you? Would you speak that way to a dear freind when they've made a mistake? If not, you have work to do. Trust me, we all have work to do.

~ Tim Ferriss, but see also, https://tim.blog/2020/12/28/jim-loehr-2/
Which brings me to the second thing: There's a very slim section hiding at the back. If I noted its existence when I read the Table of Contents, (I always read Tables of Contents,) six months later I'd certinaly forgotten the section existed. I could very easily have put the book down most of the way through and completely missed it. If you read nothing else in the book, this last section is the part you should read. I checked and it's not published as a blog post by Ferriss, (but it's small enough it could be.) Borrow or buy the book if just to read the last section.
Based on everything I've seen, a simple recipe can work: Focus on what's in front of you, design great days to create a great life, and try not to make the same mistake twice. That's it. Stop hitting net balls and try something else, perhaps even the opposite. If you really want extra credit, try not to be a dick, and you'll be a Voltron-level superstar.

~ Tim Ferriss
If you've not already guessed, all three of those quotes from Ferriss are from the last section of the book.
ɕ