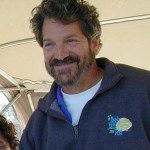 Bruce W. Constantine
April 28, 1946 – January 12, 2011
I can say many things about my father…
He was not a big fan of funerals.
He did not like to wear a suit or tie.
He could not fix plumbing.
He did not ask for directions.
He was not a good cook.
…and he definitely did not like to be called at 3am to fix an elevator.
He was always prepared.
He preferred to work smarter, not harder.
He taught many people to swim, and he swam like a fish.
– After nearly 50 years, Morrow, Fischel, Long & Constantine still hold their pool record in the 200m medley relay.
He could be headstrong, but always did the right thing.
He was gentle, knowing that violence is the last resort of the incompetent.
He was loving, even if not outwardly emotional.
– He liked to make a show of shaking his Father's Day cards looking for money.
He was reliable.
– When his mom called, he showed up promptly. If something needed to be done, he did it. And if it needed to be fixed, he fixed it.
He was adventurous.
– I can tell you without exaggeration that he travelled from Hawaii to Europe, and from Canada to the Caribbean. He literally dove to the depths of the ocean and walked to the tops of mountains. He flew an airplane, built and flew model planes, sailed small boats, won races on his catamaran, deftly handled large yachts, and navigated Southern Comfort into every by-way from Deleware to Florida.
– In his younger days he careened around the Lehigh valley with his motorcycle and Austin Healy, and he rode thousands of miles on his bicycle.
– And yet, he was never boastful.
He was wise and invariably honest.
He always provided for his family.
He was loyal, and he was dedicated.
– He was happily married for over 42 years, for richer for poorer, in sickness and in health.
He was a loving son, husband and father.
…and of course, he made us laugh.
His ability to relate stories and anecdotes did not define who he was. In reality, he was all of the things I've mentioned and more. But his ability to make others laugh was exceptional, and for that he will be sorely missed by all who knew him.
ɕ